Organ Acusticum at Luleå University of Technology in Piteå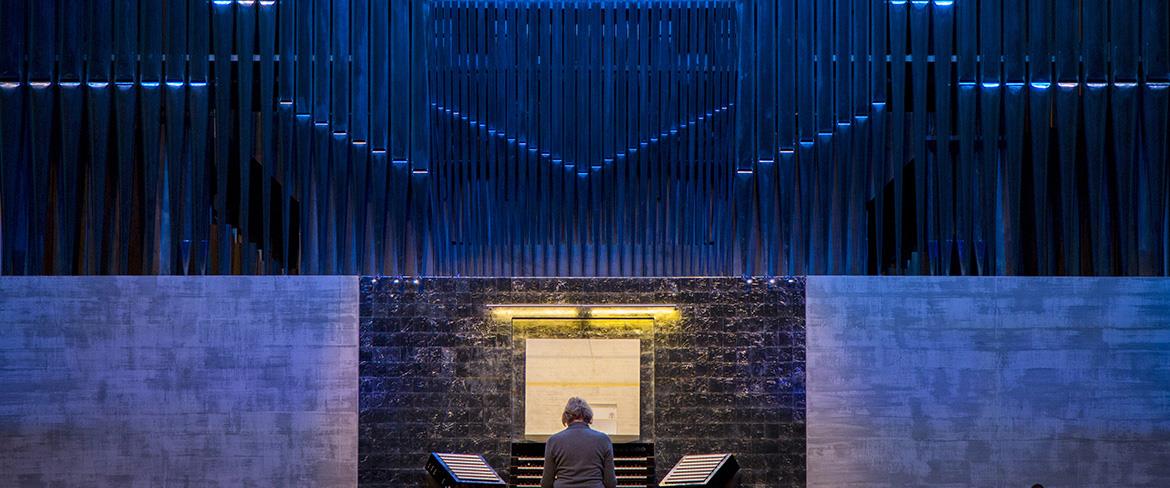 The vision is of a symphonic instrument for the 21st century. An instrument that combines tradition, artistic renewal, and innovative technology, to create a tool for the music of the future and for research in such areas as interpretation.
Moreover, the instrument will have a versatility ranging from contemporary to early music, since the very concept of this organ is unprecedented. Recent discoveries in science and the arts enable us to create an instrument of a new kind, where music from the past, the present and the future converge, and where innovative creative expressions become possible.
The Piteå School of Music has one of Europe's most successful and high-quality organist educations at diploma level. Its strong international reputation will be further enhanced by the building of the organ. The project will also increase the School's potential to maintain its recognised excellence and professionalism in education and research.
But the project encompasses more than the instrument itself. Via the broadband, the organ at Studio Acusticum can be transmitted to international audiences in cinemas, concert halls or homes with the right viewing equipment, both nationally and internationally. Discussions are already underway for a worldwide collaboration with partners in Sweden and abroad.
An organ intended for purposes of the above-described nature requires complex IT and lighting installations. Thus, the project can be said to consist of two parts: the construction of the organ itself, and the part that concerns internet communication and lighting.
Kontakt
Acusticum 4, Snickargatan 22
94163 Piteå
Contact

| | |
| --- | --- |
| Telefon | +46 0911 69 68 28 |
| E-Mail | Contact |
Auskunft

| | |
| --- | --- |
| Kontakt | Organ Acusticum at Luleå University of Technology in Piteå (Information) |
| Telefon | +46 0911 930 06 |
| E-Mail | info@studioacusticum.com |