At Västra Kajen (the Western Quay) guests are always in focus
Just a stone's throw from central Piteå you will find a cultural camping gem in a marine environment, renowned for its unique hospitality. Västra Kajen is a place that many return to, time and time again.
As soon as you arrive here, driving up to the reception desk, you will notice that this is a campsite that takes the concept of personal service to new levels. There are no fenced-in areas, barriers or digital access cards. Just a simple sign reading "Check-in". Tomas Lindbäck, who operates the facility together with his family, greets you, takes your hand and welcomes every guest personally. Then he gets on his bike and guides you to your spot, where he helps you get your camper van or camper trailer installed. Simple and hassle-free. Sure, it takes time, but according to the host, a lot is gained by this approach. "By handling it like this, things are in order from the start. No one will complain that their neighbour is parked too closely and the holidays get off to a pleasant start for everyone." From the first moment on, a relationship is built and it lasts until the guest checks out. "We take care of every guest, making sure that they thoroughly enjoy their stay. With us, the guests are always in focus. We will never let go of that."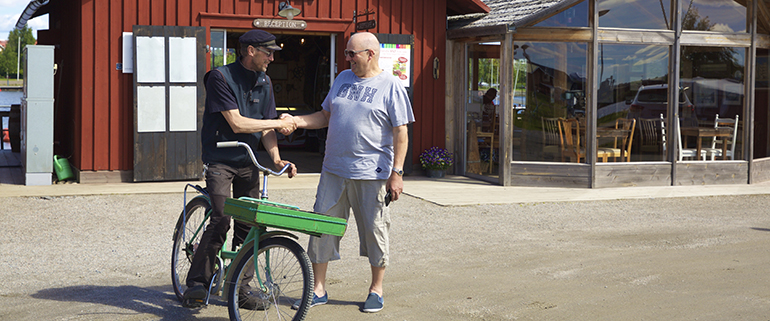 A marine atmosphere
Both its location down by the water and its surroundings make Västra Kajen a unique place. Tomas Lindbäck and his wife Karin took over the camping site and the boat harbour in 2007. They saw potential in the old harbour area, lying just a stone's throw away from the city centre and they have carefully developed the facility, step by step, with a clear concept in mind. "Everything we create, from food dishes to new amenities buildings, rests on the marine cultural heritage", explains Tomas Lindbäck who has always had a keen interest in both marine and local history. For a couple of years, he organised Tjärdoftande upplevelser (Tar-scented Experiences), boat trips focusing on cultural history along the Pite River. "Back then, I also put a lot of work into hospitality and hostmanship and we have continued building on that. The key thing is to create pleasant memories for those who come here."
Lasting relationships
The campsite is especially popular with senior guests of 55 years and older. More and more people travel by camper van and during high season, about seventy percent of visitors come from Norway. Many have met new friends here and return year after year. "We have been here many times, this is actually the third time this year and there will probably be more" says Siss and Sven Ravik who have travelled here from Inndyr south of Bodö. They sit outside their camper van, enjoying the sunshine on the small wooden deck found on each camping plot. "This is such a calm and lovely place and they take care of us in an amazing way. We really feel at home here."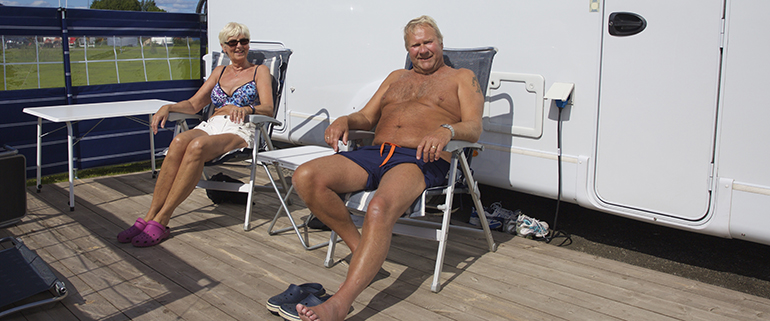 New projects every year
Västra Kajen is under constant development. For example, last season, the world's only ice cream boat was opened. "It's a passenger boat that had been standing in my yard for years. I didn't really know what to do with it but then we had the idea to remake it into an ice cream bar", explains Tomas Lindbäck. This year, a nice new amenities building has opened inside an old timber house, as well as a shop selling camping equipment that will be open seven days a week during the high season. "This is also a way for us to show that we care about our guests, the fact that new things are always happening here." Västra Kajen is a popular place to visit. The boating life contributes to a nice atmosphere, with guest berthing spots for visitors arriving by boat. At the tar-scented Skeppscaféet you will find homemade fika (pastries and light snacks) and lighter seafood meals which you can, weather permitting, enjoy out on the quay. Every now and then, events are also organised at the quay. Earlier this year, Västra Kajen won the Swedish Camping Marketer of the Year Award. "It is all about building personal relationships and long-term hostmanship. We hardly spend a penny on marketing. We care for our guests and they do the rest." Tomas Lindbäck grabs hold of his bike again. A new camper van is parked by the sign, ready to check in.
FACTS about Västra Kajen
There are
120 camping plots with electricity
A harbour with 20 full-season spaces and 40-50 guest spots
Three amenities buildings with showers/toilets and kitchens/laundry rooms
A shipping café and a reception desk
Two rooms available for hire
A sauna raft and kayaks available for hire
The season begins around Easter and lasts well into autumn. However, the campsite is open all year round. Västra Kajen is located 500 metres from the Piteå city centre with numerous stores and restaurants. Just next to the campsite you will find the Piteå Shipping Museum.
Future plans include a year-round facility with a homelike, seaside boarding house as well as a crafts marketplace, tour boats and modernised park for camper vans and trailers.
Author: Britta Elfving Persson